DRESSING FOR IBIZA SUMMER
Feps tips below:
Wearing accessories from Topshop (necklace), Trousers from Primark and crop top from BoraBora Bikinis.
SHORTS! Make sure you take at least one pair of beautiful and stylish shorts to wear with a bikini top, for a casual and sassy alternative to more traditional swimwear.
Feps Tips 2: CROP TOP! A great investment – especially the crochet style and something you can play around with.
Wearing trousers from Charity shop, bikini from Aguaclara Swimwear.
Feps Tips 3:  FLATS! Go for flats – not heels – and especially if you're heading for a beach destination. Flats will work perfectly whether you're at the beach, by the pool, or on the dancefloor at night.
Wearing dress from TKK Max, flip-flops from Havaianas and sunglasses from RayBan.
Feps Tips 4:  THROW IN A MIDDI-SKIRT INTO YOUR SUITCASE! True, not many people wear it over there, but if you match it with a crop top and flats, it works perfectly! Great choice for an evening meal or even a big night out.
Wearing swimwear from Etsy, skirt from Abercrombrie & Fitch and sunglasses from RayBan.
Feps Tips 5:  BEACH ACCESSORIES! Yes, because it's always the details that make a difference!
Wearing skirt from H&M, shoes from New Look, bag from Louis Vuitton and crop top from Brazilian market.
Feps Tips 6: NO MAKEUP WHEN YOU HEAD DOWN TO THE BEACH! So bb cream, lip stick and mascara are all fine, but leave the foundation and anything else in the hotel room. Otherwise you will simply melt in the heat!
Wearing Missguided shorts, kimono from Primark and hat from the charity.
Wearing crop top made by me, accessories by Primark and sort by Primark.
Feps Tips 8:  LIGHT FABRIC TROUSERS! You can still look sophisticated and a "beach bunny" wearing those trousers and a crop top! It will look amazing, I promise!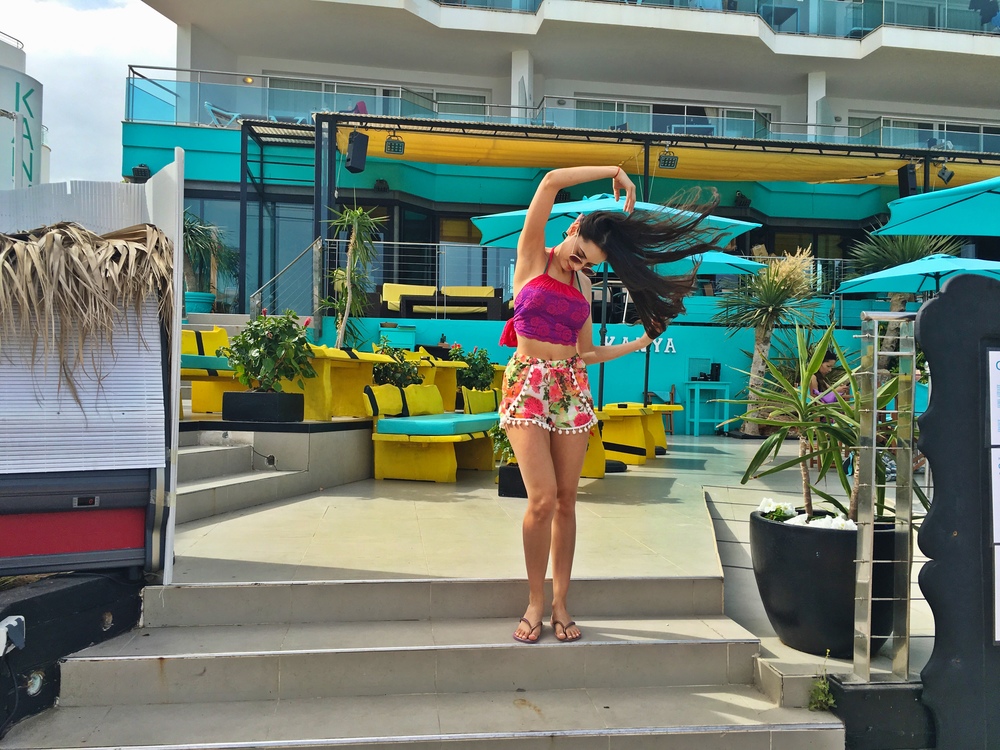 Wearing Ray Ban sunglasses, crop top made by me, Havaianas flip-flops, short from Quiz Clothing UK
Follow me on social media:
Lots of love e aproveite IBIZA!
Fernanda x